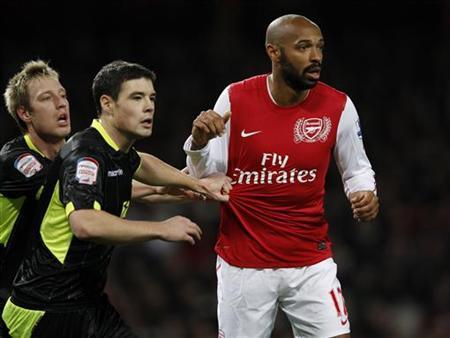 Are you interested in getting some of the best FA Cup betting odds for the upcoming final? Make sure you head to bwin today for all of your FA Cup betting!
How utterly predictable.
To be honest, it was hard not to feel like the Whites were any more than actors in a more media-friendly play than simply an FA Cup match in the run-up to this one – and in the end we were to oblige the Henry love-in, despite a resilient defensive showing.
The recent alarming slump in league form, only partially abated by the Burnley get-out-of-jail meant that few would have considered this anything other than a distraction before the more important London business is addressed at the weekend, but ironically, in distraction we saw much sharpened focus than recent games.
As a defensive show alone, few faults could be found. One of the youngest defences in recent times put in a fine night's work.
The full-backs were very impressive, particularly White. Sadly, if there's any truth in the rumours reported here on the Scratching Shed that Arsenal have made a contract offer to the lad, they'll be upping their tapping up game from here on in.
He utterly stifled the highly-rated Oxlade-Chamberlain, who was eventually substituted. Although not tested a great deal against the frankly awful Andrei Arshavin, Zac Thompson also looks like he's got the potential to give Bates an excuse not to lunge a finger into his pocket in pursuit of a long-term right-back option better than Connolly.
Tom Lees had a hugely impressive return from injury – the kid's definitely 'got it': composure, leadership, positional sense, and it's a testament to him that we're no longer surprised by the maturity of his game. The 'veteran' of the bunch O'Dea looked by far the most limited, yet even he had a pretty solid game (but suggestion to Darren: can you consider other 'out-balls' to the straight pitch-bisecting hoof at all? Just give it a go and report back…)
'Why don't we defend like this in the league?' I wondered aloud. 'Because we at least try to attack in the league,' retorted the fella in front of me. Fair point. Off-form we've undoubtedly been of late, so it was no real surprise to see solidity preferred to thrust by Grayson, even against a weakened Arsenal outfit.
Despite the distractive nature of the match, though, there was a sense that there could have been joy to be had against the Gunners defence had we actually bothered to trouble them.
Leeds' attacking players are due significantly less laudatory reviews. I think the majority have now concluded that Ramon Nunez is simply a non-footballer with a half-decent shot. Unable to get any shots off at all, he was exposed as being devoid of ideas, touch, pace or final ball, typified by him getting in a position to repeat Max Gradel's jinking penalty-win from last time out at the Emirates, and instead pathetically giving the ball away.
Fans' hero Becchio is looking less and less heroic with every game. In this one he only managed to win and direct one header on my count and the positive change on the introduction of McCormack and Forssell was marked. Townsend shouldn't really be judged on this game – his isolation acute, he was largely faced with bombing into dead ends time and time again.
Given the largely 'attack against defence' nature of the piece, the longer it went on goalless the more the stage was set for the inevitable dénouement. With depressing inevitability, Thierry got his goal (extremely stylishly taken I must concede), the Home fans made their only real noise of the game (bar that for the same man beginning his warm-up), and we left hopeful of future clean sheets against teams with no Thierry Henrys in their ranks, but also hoping for a quick Snoddy return, preferably on Saturday.
About Saturday; if the players have been any way distracted by their night out in the capital, it is heartening to note that Palace will be stretching their limbs and depleted squad even further to breaking point in pursuit of a genuine cup opportunity against Cardiff tonight, so we've no excuses.
What else to say? Well, er, Robbie Savage got riled at the baiting he and his colleagues received at the ill-advised punditry pop-up stand in front of the Leeds faithful, and stamped with rage – on Twitter, naturally. Savage getting hot and bothered, Henry scoring against Leeds. Some things never change.